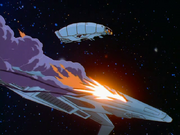 Ejection
is the process when a pilot abandons his ship to escape its destruction and hope for a rescue.
When a ship has sustained significant damage, the Eject Warning flashes to warn the pilot about the severity of the situation and to decide whether to eject or not.[1]
The Terran Confederation Navy awards the Golden Sun medal to a pilot for surviving the destruction of one's ship.[1]
Eject pods
Edit
Usually the pilot suit protects his body while in the vacuum of space, although some variants of Scimitars ejected the whole cockpits, engulfed by protective pods.[2] Such pods had some limited thrust power for stabilization[3] and tracking transmitters.[4] A pair of folded grappling arms helped a pod to dock with a larger ship.[5] While in the pods, the pilots where vulnerable as they could be tracked and shot by enemy pilots.[6][7]
Ships had receptors which allowed the securing of such pods and rescuing the pilots.[8]
Some Kilrathi ships also had their version of eject pods. They also had a parachute to fall on planets.[9]
References
Edit
↑ 1.0 1.1 Claw Marks
Community content is available under
CC-BY-SA
unless otherwise noted.